Screwdriver and Utility Kit Set, 103-PCS- MEDIUM
SKU:
610301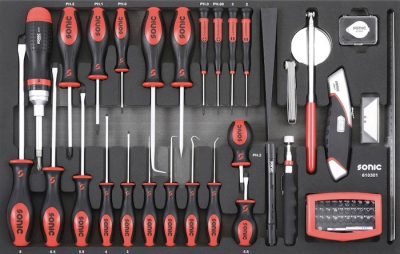 Product Overview:
Warranty:

Sonic offers a hassle-free lifetime warranty on all products. For more information or to submit a claim click here.
ONLY AVAILABLE IN INTERMEDIATE AVIATION KIT. Sonic screwdrivers include ergonomic tri-lobe plastic handles with a rubber overmold for comfort and grip. Chrome Vanadium shafts ensure durability for years of use, and a hardened tip offers maximum gripping power. You get Phillips and slotted screwdrivers, including stubby Phillips and slotted, as well as smaller precision screwdrivers. A ratcheting screwdriver accepts the included 32-bits. Additional items include a telescoping inspection mirror, telescoping magnet, LED pen light, and more.
Details

Sonic screwdrivers include ergonomic tri-lobe plastic handles with a rubber overmold for comfort and grip. Chrome Vanadium shafts ensure durability for years of use, and a hardened tip offers maximum gripping power. You get Phillips and slotted screwdrivers, including stubby Phillips and slotted, as well as smaller precision screwdrivers. A ratcheting screwdriver accepts the included 32-bits. Additional items include a telescoping inspection mirror, telescoping magnet, LED pen light, and more.

Tool Sizes Engraved in Foam
Laser Cut and Chemical Resistant
Lifetime Warranty and 24-Hour Online Tool Exchange
16-in-1 Ratchet Screwdriver
Slotted Screwdriver: 3, 4, 5.5, 6.5, 8mm
Cotter Pin Puller 10"
Stubby Slotted Screwdriver: PH.2, 5.5mm
Feeler Gauge 26-PCS
Stainless Steel Straight Rule: 30cm(12") and 15cm(6")
Mini Straight Pick Hook 6"
Mini Small Angle Hook
Mini Degree Hook
Extendable Magnet Pick-Up: 6"-25" (6lbs)
LED Pen Flashlight
Wedge Universal: 7.5 x 1.2in (190x30mm)
Telescopic Mirror: 11"-30" (30-74cm)
Bit Set 32-PCS
Utility Knife (including 23 blades)