Hinged Socket Wrench
SKU:
Hinged Socket Wrench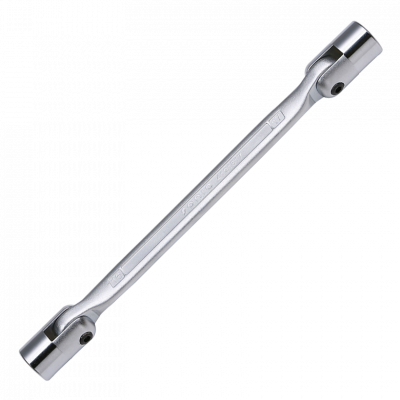 Product Overview:
Warranty:

Sonic offers a hassle-free lifetime warranty on all products. For more information or to submit a claim click here.
The hinged wrench features a double ended 12-point socket end. The hinges rotate more than 180 degrees. The finish is a smooth, polished Chrome Vanadium for strength and rust resistance. Designed to provide durability in harsh working conditions.
Details

Hinged Socket Wrench

Sonic hinged socket wrenches are simply a wrench with a different size socket on each end. The socket end includes a 12-point design which allows for different angles of approach to the fastener. Sonic wrenches are made from tough and durable Chrome Vanadium steel for a lifetime of use and resistance to rust and corrosion. Furthermore, these wrenches are backed by the Sonic Tools lifetime warranty.

Available 6-27mm
Chrome Vanadium
12PT Socket End
Hinges Rotate More than 180-Degrees
Rust Resistant