Precision Screwdriver Set - 23 pcs.
SKU:
602303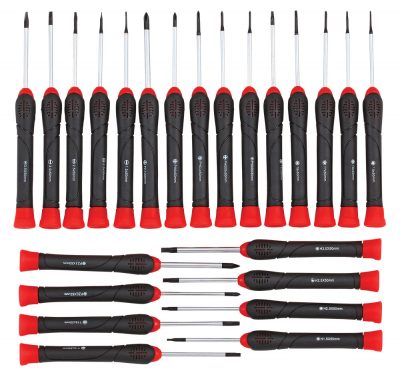 Product Overview:
Warranty:

Sonic offers a hassle-free lifetime warranty on all products. For more information or to submit a claim click here.
Our precision screwdriver set includes features such as twist end caps and 2 component handles. Included in this set are multiple sizes of Phillips, Slotted, Pozidrive, and Hex. Screwdrivers are made from Chrome Vanadium steel.
Details

Precision screwdriver set, 23-pieces.

Chrome Vanadium
Twist Cap
Ergonomic Handle
Phillips: PH.000, PH.00, PH.0, PH.1
Pozidrive: PZ.0, PZ.1
Hex: 1.5, 2, 2.5, 3, 3.5mm
T5, T6, T7, T8, T9, T10, T15