Filled MSS 110", 533-pcs Wooden top
SKU:
7533122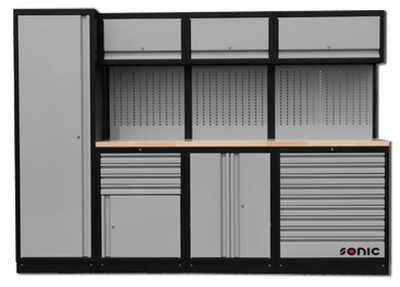 Product Overview:
Warranty:

Sonic offers a hassle-free lifetime warranty on all products. For more information or to submit a claim click here.
Create the ultimate work space with the MSS modular storage systems. Keep your work space organized to maximize your work flow and productivity! This MSS setup comes with Sonic's 533-PCS tool kit.
Details

Filled MSS 110", 533-pc Wooden top

This MSS system creates the best work environment by keeping it clean and organized. It is equipped with 3 overhead cupboards, a closet and a small, convenient cabinet for maximum storage. It features hanger boards that hang tools and materials. It includes a stainless steel top blade for added work surface. The drawers are 100% retractable and the MSS system has front, centralized locks to keep items secure and safe. It is compatible with Sonic Foam System (SFS) and is a completely self-supporting structure. This system enhances your work organization and efficiency.

Hanger boards
Wood Work Top
3 overhead cupboards
closet
cabinet
Compatible with Sonic Foam System (SFS)
Self-supporting structure
Front, centralized locks
Lifetime Warranty with 24-Hour Online Tool Exchange
Dimensions: 110.4" x 20.9" x 78.7"