FAQ
FREQUENTLY ASKED QUESTIONS
Looking for information about Sonic Tools? See some of our most commonly asked questions regarding our wide range of products below. Still having trouble finding the answer to your question? Contact us below or email us at info@sonictoolsusa.com
Looking for information about Sonic Tools? See some of our most commonly asked questions below.
Where are Sonic's tools made?
Sonic is a Dutch-based company with facilities in Germany, the Netherlands, Taiwan, and the United States. We design and manufacture tools throughout Europe and Taiwan, focusing on the ideal locations to produce the highest quality tools.
How does Sonic compare to other professional tool brands?
According to independent testing, our products are of equal or better quality to the professional tool truck brands.
Does Sonic have tool trucks?
We do business a bit differently. Think of us like the Amazon Prime of tool companies. We offer a professional grade tool direct to consumers, instead of several layers of distribution. Your phone becomes your "tool truck." Because of this, we're able to offer significantly lower prices and more consistent service.
Are your tools sold in any stores?
No. Our tools are available on our website and through our sales team that can be reached by phone at 844-407-6642 or email at info@sonictoolsusa.com
Does Sonic have a military discount?
Yes, 15% off your purchase (some exclusions apply*) Call our team to use your discount 844-407-6642
What is the Sonic Foam System?
The Sonic Foam System is Dual Density EVA foam with CNC-machined cut outs for each tool. Every tool has its own marked spot. The Sonic Foam System is proven to help save you time and money by making tool retrieval faster and reduce that amount of misplaced tools.
Will the foam system work in my current toolbox?
You will first need to measure the drawers in your existing toolbox. The dimensions for our foam system are as follows;
SMALL - 7.5" x 14.5"
MEDIUM - 22.5" x 14.5"
LARGE - 29" x 17"
XD - 29 x 22.5"
Can I get custom foam made?
We do offer custom foam services with a minimum order quantity. Please contact our team with any questions regarding custom foam sets.
What is the Inventory Control Book?
Our inventory control books contain sheets for each Sonic Foam System included with the toolbox you ordered. Each sheet contains a layout of the drawer, including part numbers and locations. Inventory control books help you audit your toolbox to ensure you are not missing a tool.
No, at this time the Sonic Foam System comes as a set and each foam tray is specifically cut to match the Sonic Tool.
How are toolboxes shipped?
All packages to big/heavy to ship via UPS, including toolboxes, cabinetry, and XD toolsets will ship through a Freight Carrier. This is noted during checkout when choosing the shipping method "Per weight carrier (fixed)"
Standard freight shipping includes free curbside delivery and lift gate service. This complimentary service is designed to expedite the process of unloading your package.
For more information learn more HERE
Does Sonic ship internationally?
We only service North America including the United States, Canada, & Mexico. For any international inquiries, please reach out to info@sonic-equipment.com.
Can I pick up my toolbox from your facility?
We do offer local pickup at our US headquarters in Auburn, Alabama. Local sales tax will apply.
What is the warranty policy?
We believe our warranty process is simple and efficient. Within minutes of your warranty claim being sent, the Sonic team will process your claim and a brand-new product will be shipped to you. This process guarantees you receive a new product quickly. Use our Warranty Exchange Portal to submit any requests: 24-Hour Online Tool Exchange.
Provide the information requested along with a picture of the broken product you wish to warranty. After the information is received, we will reach out and process your claim within 24 hours and ship the new product once complete. If we request the old part back, there will be a return label inside the box containing the new tool. Please affix the return label to the box and return to the nearest UPS location.
Do I have to pay return shipping when I warranty a tool?
Sonic covers the cost of shipping for all warrantied tools.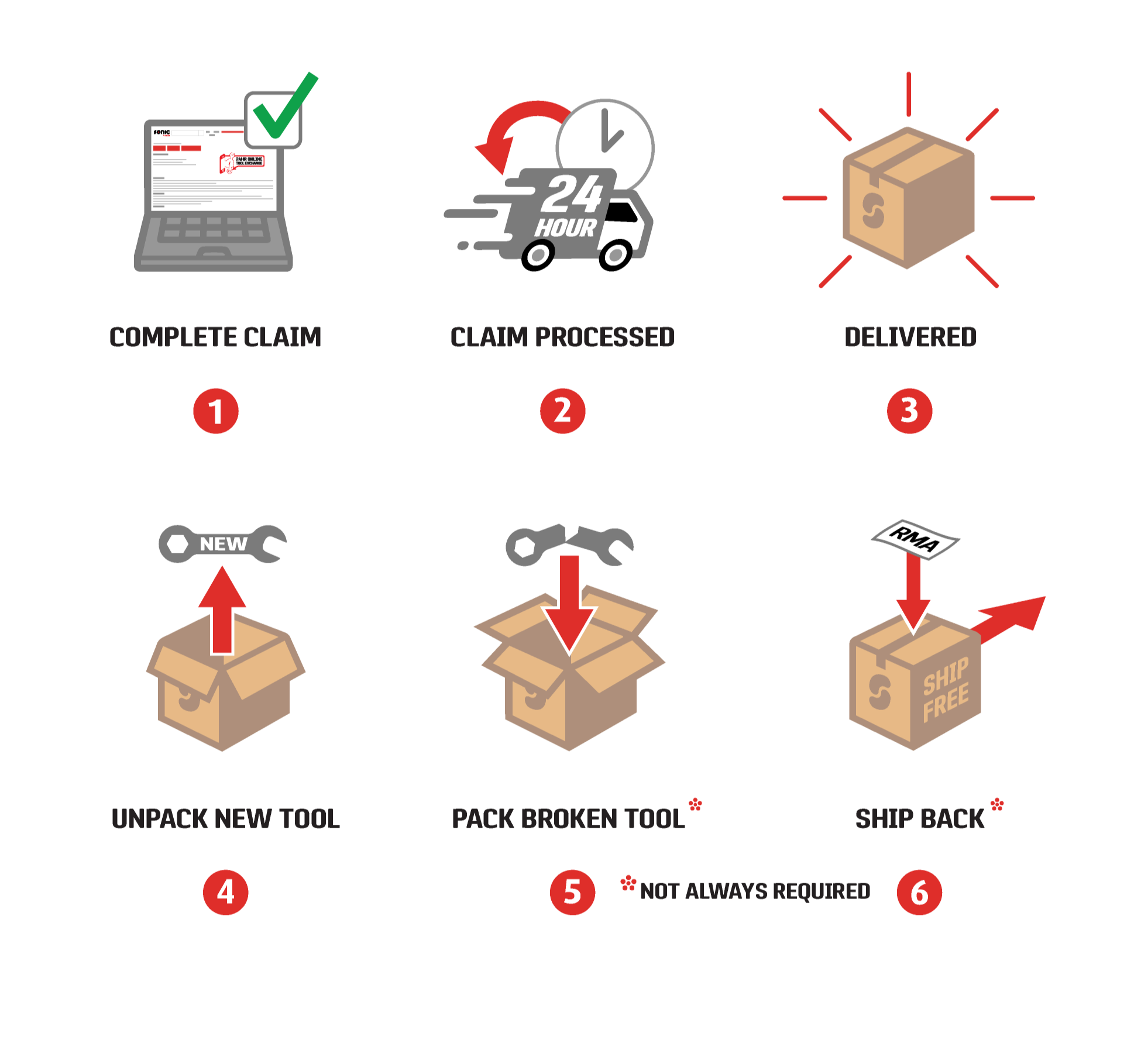 What is the Student Program?
The Sonic Tools Student Program is designed to provide quality hand tools, toolboxes and filled toolbox solutions to aspiring technicians at a discount. Student purchases of hand tools and toolboxes are accompanied by our lifetime warranty and 24-Hour Online Tool Exchange. Your student discount will last up to 90 days after graduation.
Learn more and apply HERE
How much is the student discount?
All full-time collegiate or tech school level students currently enrolled and fulfilling their academic responsibilities are eligible. Simply an online application HERE and one of our Education Sales Specialists will reach out.
What products are available to me at student pricing?
The Sonic student discount is available for all products excluding promotional items and the MSS and MSS+ lines. Discounts can not be used on sale items.
How much am I allowed to purchase with my student pricing?
As much as you'd like. Unlike other companies, there is no limit to how much you can purchase using your student discount. As long as you are currently enrolled and fulfilling your academic responsibilities, your student discount is valid for all purchases.
Simply fill out our online student application HERE, then start shopping. a Sonic Sales Representative will reach out shortly after completion of the application to place any orders. All student orders will be taken over the phone with a sales rep.
Do you offer student financing?
Student Financing is available for those that are approved into the Sonic Student Program. Once approved into the program please reach out to our sales team for a financing application.
Can I test out the tools?
Can I buy individual hand tools?
What's the difference between MSS and MSS+ cabinetry?
Both systems are designed to work seamlessly with our Sonic Foam System. MSS and MSS+ are closely related in design and functionality, but the componentry is vastly different. MSS+ takes all the great features of MSS and pushes them to the next level. MSS+ offers stronger construction, increased metal thickness, higher capacity Dutch-made drawer slides, improved Blum hinges, German fixed code locks, integrated power, LED lighting options, and more. Contact our team to learn more about which system fits your needs best.
Need help assembling your MSS+ cabinets? Watch our step by step video below.
Do you offer tools in Standard/SAE?
Yes, we offer plenty of SAE options. Shop HERE or you can type "SAE" into the search bar or look through our tool sets and you'll see a yellow SAE icon. The Sonic Foam Systems indicates standard tools by using 2-tone red and black and metric tools using grey and black.
Do I have to purchase a "pre-built kit" or can I build my "own kit"?
If you are unable to locate a kit that fits your needs specifically, you can utilize the "Build a Toolbox" feature on our website or contact us directly and one of our knowledgeable specialists will tailor a set to your requirements.
No, the Sonic Foam System comes as a set and each foam tray is specifically cut to match the Sonic Tool.
Does Sonic offer a calibration service for torque wrenches?
We do not offer in-house calibrations. However, unlike our competition, utilizing a third party does not void the lifetime warranty.
As an additional service, Sonic Tools offers laser etching for all your personalization, serialization, and identification needs. Our in-house capabilities allow you to add up to 6 characters on each included tool before it leaves our facility, giving you the solution to making asset management a breeze. You can watch the laser etching process below.
Does Sonic offer financing?
We offer consumer financing through Affirm. Affirm is a financing alternative to credit cards and other credit-payment products. Affirm offers instant financing for online purchases to be paid in fixed monthly installments over 3, 6, or 12 months. See how it works HERE.
Student Financing is available for those that are approved into the Sonic Student Program. Once approved into the program please reach out to our sales team for a financing application.