Screwdriver Set, 8-PCS - SMALL SFS
SKU:
600823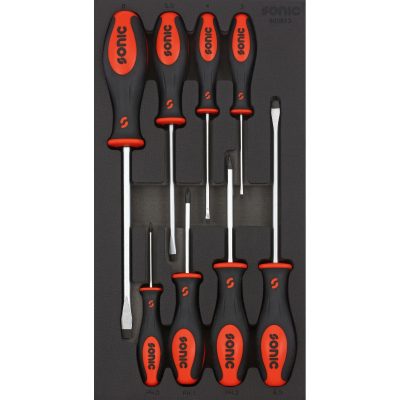 Product Overview:
Warranty:

Sonic offers a hassle-free lifetime warranty on all products. For more information or to submit a claim click here.
The Sonic 8-piece screwdriver set is a necessity. Sonic screwdrivers feature a bi-material handle (polypropylene and thermoplastic vulcanizate) that are ergonomically designed for comfort as well as maximum power. Chrome Vanadium shafts ensure durability for years of use, and a hardened tip offers maximum gripping power.
Details

Screwdriver Set, 8-PCS - SMALL

In the Sonic Foam System, tools are stored in a well-organized, chemical resistant, CNC machined foam inlay. They are quickly accessible for fast workability, ergonomically laid out, and feature a two-tone color system for convenient survey of missing tools. Sonic screwdrivers are available in 3 different styles- standard, stubby, and extra-long. Sonic screwdrivers include ergonomic tri-lobe plastic handles with a rubber overmold for a comfortable grip.

Tool Sizes Engraved in Foam
Laser Cut and Chemical Resistant
Lifetime Warranty and 24-Hour Online Tool Exchange
Screwdriver: PH.0 PH.1 PH.2
Slotted Screwdriver: 3, 4, 5.5, 6.5, 8mm