Screwdriver Set, 45-PCS - XD SFS
SKU:
604501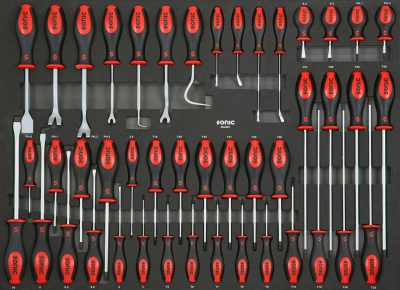 Product Overview:
Warranty:

Sonic offers a hassle-free lifetime warranty on all products. For more information or to submit a claim click here.
Get all your drivers, including extra long Torx drivers in this Sonic 45-piece tray. Sonic screwdrivers include ergonomic tri-lobe plastic handles with a rubber overmold for comfort and grip. Chrome Vanadium shafts ensure durability for years of use, and a hardened magnetic tip offers maximum gripping power. In addition to the multitude of screwdrivers are the scrapers, door clip tools, hooks, and various other pry tools with the same driver handles. Seven extra long Torx drivers are included from T15-T45.
Details

Get all your drivers, including extra long Torx drivers in this Sonic 45-piece tray. Sonic screwdrivers include ergonomic tri-lobe plastic handles with a rubber overmold for comfort and grip. Chrome Vanadium shafts ensure durability for years of use, and a hardened magnetic tip offers maximum gripping power. In addition to the multitude of screwdrivers are the scrapers, door clip tools, hooks, and various other pry tools with the same driver handles. Seven extra long Torx drivers are included from T15-T45.

Tool Sizes Engraved in Foam
Laser Cut and Chemical Resistant
Lifetime Warranty and 24-Hour Online Tool Exchange
Scraper 10"
Door Upholstery Panel Remover: 100mml, 9"
Door Upholstery Panel Remover: 132mml, 10"
Trim Pad Tool: 1/4" x 115mml, 9"
Cotter Pin Puller
Trim Pad Tool: 5/16" x 115mml, 10"
Radiator Hose Remover
Straight Removal Tool: 3x63mm, 3x133mm
Angle Straight Removal Tool: 3x63mm, 3x133mm
Screwdriver: PH.0, PH.1, PH.2, PH.3
Slotted Screwdriver: 3, 3.5, 4, 5.5, 6.5, 8, 10mm
Screwdriver TX: T5, T6, T7, T8, T9, T10, T15, T20, T25, T27, T30, T40
Stubby Slotted Screwdriver: 5.5, 6.5mm
Stubby Screwdriver: PH.1, PH.2
Screwdriver Extra Long. TX: T15, T20, T25, T27, T30, T40, T45