Metric Socket Set 1/4" 3/8", 157-PCS - MEDIUM SFS
SKU:
215702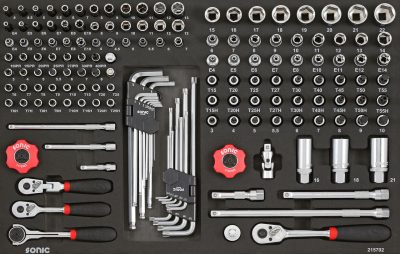 Product Overview:
Warranty:

Sonic offers a hassle-free lifetime warranty on all products. For more information or to submit a claim click here.
This 157-piece metric socket set covers the essentials for your 1/4" and 3/8" drives. From 1/4" to 3/8" sockets and ratchets, Allen keys, Torx and more. Sonic ratchets and sockets are made from Chrome Vanadium steel while bit sockets are made from hardened tool steel. The flank sockets have reliefs in the corners, allowing the socket to bite into the flats of the fastener, mitigating the chance of stripping.
Details

These 1/4" ratchets offer flexibility with a standard ratchet and two different flex-head ratchets. There's also a 3/8" ratchet for those larger sizes and increased torque fasteners. Three spark-plug sockets come in 16, 18, and 21mm. For those tighter areas, this kit also includes two disc ratchets in 1/4" and 3/8". The 9-piece Torx-key set and a 10-piece Hex-key (Allen) sets are front-and-center when needed.

Additional Information

Tool Sizes Engraved in Foam
Laser Cut and Chemical Resistant
Lifetime Warranty and 24-Hour Online Tool Exchange
Flank Socket 1/4", 6PT: 4, 4.5, 5, 5.5, 6, 7, 8, 9, 10, 11, 12, 13mm
Flank Deep Socket 1/4", 6PT: 4, 4.5, 5, 5.5, 6, 7, 8, 9, 10, 11, 12, 13mm
Socket TX 1/4": E4, E5, E6, E7, E8, E10
Deep Socket TX 1/4": E4, E5, E6, E7, E8, E10
Hex Ball Key Set Extra Long 10-PCS: 1.27, 1.5, 2, 2.5, 3, 4, 5, 6, 8, 10mm
TX Key Set Extra Long 9-PCS: T10, T15, T20, T25, T27, T30, T40, T45, T50
Flexible Ratchet 1/4": 45 Teeth
Disc Ratchet 1/4": 72 Teeth
Ratchet Handle 1/4": 72 Teeth
Ratchet Handle 1/4": 60 Teeth
Extension 1/4": 50, 100, 150mml, 2"(L), 4"(L), 6"(L)
Universal Joint 1/4"
Magnet Socket Pick-Up 1/4"
Bit Socket Hex 1/4": 3, 4, 5, 5.5, 6, 7, 8mm
Tamper-Resistant 1/4", TX Plus (5 lobes): 10IPR, 15IPR, 20IPR, 25IPR, 27IPR, 30IPR, 40IPR
Bit Socket TX 1/4": T6, T7, T8, T9, T10, T15, T20, T25
Bit Socket TX Tamperproof 1/4": T6H, T7H, T8H, T9H, T10H, T15H, T20H, T25H
Flank Socket 3/8", 6PT: 6, 7, 8, 9, 10, 11, 12, 13, 14, 15, 16, 17, 18, 19, 20, 21, 22mm
Socket 3/8", TX: E4, E5, E6, E7, E8, E10, E11, E12, E14
Disc Ratchet 3/8": 72 Teeth
Ratchet Handle 3/8": 60 Teeth
Extension 3/8": 75, 150, 250mml, 3"(L), 6"(L), 10"(L)
Universal Joint 3/8"
Adaptor for Extension: 1/2"(F) x 3/8"(M)
Spark Plug Socket 3/8": 16, 18, 21mm
Bit Socket Hex 3/8": 3, 4, 5, 5.5, 6, 7, 8, 9, 10mm
Bit Socket TX 3/8": T15, T20, T25, T27, T30, T40, T45, T50, T55
Bit Socket TX Tamperproof 3/8": T15H, T20H, T25H, T27H, T30H, T40H, T45H, T50H, T55H