Metric Socket Set 3/8" 1/2", 86-PCS - MEDIUM SFS
SKU:
308602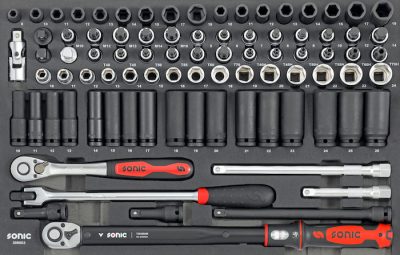 Product Overview:
Warranty:

Sonic offers a hassle-free lifetime warranty on all products. For more information or to submit a claim click here.
THIS PRODUCT IS ONLY AVAILABLE IN OUR 456-PCS TOOLSET. This 86-piece medium socket set combines your 3/8" and 1/2" impact sockets all into one drawer and is rounded out with a 1/2" torque wrench and 1/2" 60 tooth ratchet. Sonic impact sockets are made from CR440 steel, offering excellent impact-resistance while still combatting the elements with its stainless properties.
Details

This 86-piece medium socket set combines your 3/8" and 1/2" impact sockets all into one drawer and is rounded out with a 1/2" torque wrench and 1/2" 60 tooth ratchet. Sonic impact sockets are made from CR440 steel, offering excellent impact-resistance while still combatting the elements with its stainless properties.

Shallow Impact Sockets 3/8", 6PT: 8, 10, 11, 12, 13, 14, 15, 17, 19mm
Deep Impact Sockets 3/8" 6PT: 10, 11, 12, 13, 14, 15, 17, 19mm
Universal Joint 1/2"
Adaptor: 1/2"(F) x 3/8"(M), 3/8"9(F) x 1/2"(M)
Impact Adaptor: 3/8"(F) x 1/2"(M)
Ribe Bit Sockets 1/2": M10, M12, M13, M14, M16
Hex Bit Sockets 1/2": 5, 6, 7, 8, 9, 10, 12, 14mm
Torx Bit Socket 1/2": T40, T45, T50, T55
Tamper Proof Bit Sockets 1/2": T40H, T45H, T50H, T55H, T60H, T70H
Shallow Sockets 1/2", 6PT: 10, 11, 12, 13, 14, 15, 16, 17, 18, 19, 20, 21, 22, 23, 24mm
Deep Impact Sockets 1/2", 6PT: 10, 11, 12, 13, 14, 15, 16, 17, 18, 19, 20, 21, 22, 23, 24, 25, 26mm
Tooth Quick Release Ratchet 1/2", 60 Teeth
Breaker Bar 1/2"
Impact Extensions 1/2": 75, 125, 250mml
Extensions 1/2": 125, 250mml