Utility Set, 44-PCS - MEDIUM SFS
SKU:
604402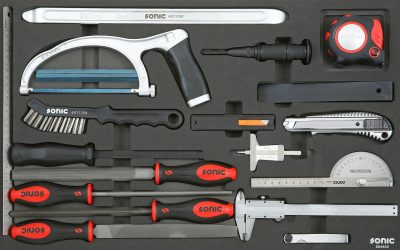 Product Overview:
Warranty:

Sonic offers a hassle-free lifetime warranty on all products. For more information or to submit a claim click here.
There's several tools in this set that will save your day. While files and a hacksaw may seem routine, having it within reach is the real luxury. A 9-inch vernier caliper and a tire-tread depth-gauge deliver real measurements for informed decisions. Adjust valves are no problem with the 26-piece feeler gauge and a stainless-steel protractor will help you determine the right angle. Get precise measurements with our 5-meter measuring tape.
Details

There's several tools in this set that will save your day. While files and a hacksaw may seem routine, having it within reach is the real luxury. A 9-inch vernier caliper and a tire-tread depth-gauge deliver real measurements for informed decisions. Adjust valves are no problem with the 26-piece feeler gauge and a stainless-steel protractor will help you determine the right angle. Get precise measurements with our 5-meter measuring tape.

Tool Sizes Engraved in Foam
Laser Cut and Chemical Resistant
Lifetime Warranty and 24-Hour Online Tool Exchange
Auto Center Punch
Mini Hacksaw 11"
Saw Blade 3-PCS
Feeler Gauge 26-PCS
Vernier Caliper 9"
Stainless Steel Straight Rule 30cm 12"
Stainless Steel Protractor
Measuring Tape: 197" (5M)
Steel Wire Brush 9"
Wedge Universal: 7.5 x 1.2" (190 x 30mm)
Pry Bar: 380mml
Tire Profile Gauge: 2" (50mm)
Flat File 8"
Half Round File 8"
Round File 8"
Triangular File 8"
Utility Knife (including 10 blades)
Spare Blades Dispenser 10-PCS
Brake Caliper File