Tap & Die Set, 40-PCS
SKU:
820015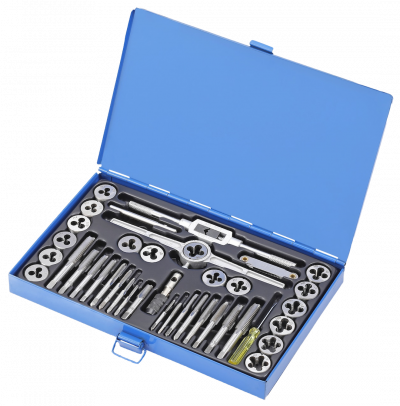 Product Overview:
Warranty:

Sonic offers a hassle-free lifetime warranty on all products. For more information or to submit a claim click here.
Cut new threads for bolts or bolt-holes with our 40 piece tap and die set. This set includes 16 metic taps and 16 metric dies. When a replacement bolt is hard to find, use this tap and die set to remove imperfections from threads.
Details

Metric Tap & Die Set, 40-PCS

Cut new threads for bolts or bolt-holes with our 40 piece tap and die set. This set includes 16 metic taps and 16 metric dies. When a replacement bolt is hard to find, use this tap and die set to remove imperfections from threads.

All Metric Sizes

Tool Sizes Engraved in Foam
Laser Cut and Chemical Resistant
Lifetime Warranty and 24-Hour Online Tool Exchange
Taps - M3xP0.5, M3xP0.6, M4xP0.7, MxP.075, M5xP0.8, M5xP0.9, M6P0.75, M6xP1.0, M7xP0.75, M8xP1.0, M8xP1.25, M10xP1.25, M10xP1.5, M12xP1.25, M12xP1.5, 1/8"-17 NPT
Dies - M3xP0.5, M3xP0.6, M4xP0.7, MxP.075, M5xP0.8, M5xP0.9, M6P0.75, M6xP1.0, M7xP0.75, M8xP1.0, M8xP1.25, M10xP1.25, M10xP1.5, M12xP1.25, M12xP1.5, 1/8"-17 NPT
Adjustable Tap Wrench M3 - M12
T-Handle Tap Wrench M3 - M6
Die Handle 25mm (O/D)
Thread Pitch Gauge
Screwdriver