MSS+ 254" Setup, 30 Drawers with Storage
SKU:
5881109K-SS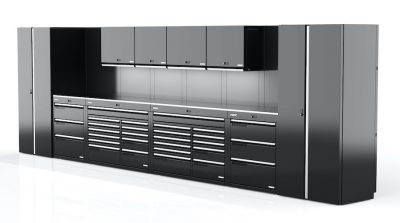 Product Overview:
Warranty:

Sonic offers a hassle-free lifetime warranty on all products. For more information or to submit a claim click here.
Our vision has always been to enable professionals in technical services to improve their productive output. With MSS+ our ambition has become reality. To create premium workplaces and deliver ultimate workflow. This 267 inch cabinet setup includes 30 tool drawers, storage cabinets, lockers, and a stainless steel worktop.
Details

MSS+ 267" Setup, 30 Drawers with Storage

Create the ultimate workspace with the modular storage solutions plus. The self-supporting system is compatible to almost every working area, no walls needed. Install the MSS+ wherever you like without any restrictions. MSS+ cabinets ensure a premium workplace for an ultimate workflow.

Dimensions in inches: 267.3" wide, 78.7" high, 25.6" deep
Dimensions in mm: 6790mm wide, 2000mm high, 650mm deep
Compatible with XD, L, M, or S Sonic Foam
Black RAL 9004 Powder Coating with Silver Handles
Stainless Steel Worktop
270lb and 520lb Drawer Load Capacity
100% Retractable Drawers
Ventilated Drawers for Power
Heavy Duty 1.4mm Steel Construction
Fixed Code Locking System Allows for Keyed or Coded Entry
720m, 3 Drawer Storage Cabinets (2)
1540mm, 12 Drawer Cabinets (2)
965mm Double Door Storage Lockers (2)
720mm Wall Cabinets (2)
820mm Wall Cabinets (2)
Back Panels