MSS 674mm Closet with Trash Can
SKU:
47431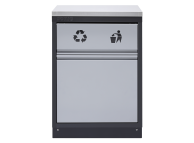 Product Overview:
Warranty:

Sonic offers a hassle-free lifetime warranty on all products. For more information or to submit a claim click here.
This self-supporting MSS system creates the perfect storage and work space. It is equipped with 4 heavy-duty ball bearing slide drawers with 100% retractable drawer capability. Both the drawers and cabinet have front centralized locks to keep items stored safely and securely. It includes a stainless steel top blade and is compatible with Sonic Foam Systems.
Details

MSS 26" Closet with Trash Can

This self-supporting MSS system creates the perfect storage and work space. It is equipped with 4 heavy-duty ball bearing slide drawers with 100% retractable drawer capability. Both the drawers and cabinet have front centralized locks to keep items stored safely and securely. It includes a stainless steel top blade and is compatible with Sonic Foam systems (SFS).

Dimensions in inches: 26.5" wide, 39.5" high, 19.7" deep
Dimensions in mm: 674mm wide, 1004mm high, 501mm deep
Stainless Steel Top Blade
Lifetime Warranty with 24-Hour Online Tool Exchange