MSS 110" Setup, 27 Drawers with Storage
SKU:
4731809K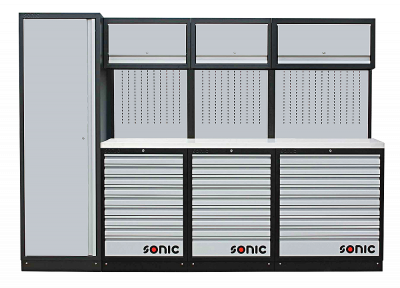 Product Overview:
Warranty:

Sonic offers a hassle-free lifetime warranty on all products. For more information or to submit a claim click here.
This MSS system creates the ultimate work space by keeping your work area clean and efficient. It includes a full-length locker, 3 overhead cupboards and 27 drawers for maximum storage needs. It features a stainless steel top blade and is compatible with Sonic Foam Systems (SFS). It brings organization and efficiency to a whole new level.
Details

MSS 110" Setup, 27 Drawers with Storage

This MSS system creates the ultimate work space by keeping your work area clean and efficient. It includes a full-length locker, 3 overhead cupboards and 27 drawers for maximum storage needs. It features a stainless steel top blade and is compatible with Sonic Foam Systems (SFS). It brings organization and efficiency to a whole new level.

Dimensions in inches: 110.6" wide, 78.7" high, 20.9" deep
Dimensions in mm: 2803mm wide, 2000mm high, 530mm deep
Stainless Steel Top Blade
Self-Supporting Structure, Walls No Longer Needed
Modular Customizable to Personal Wishes
Compatible with Sonic Foam System
Lifetime Warranty and 24-Hour Online Tool Exchange