Metric Wrench Set, 19-PCS - SMALL SFS
SKU:
601903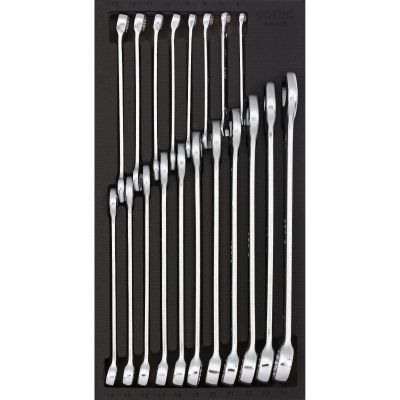 Product Overview:
Warranty:

Sonic offers a hassle-free lifetime warranty on all products. For more information or to submit a claim click here.
Sonic Tools combination wrenches include an open-end on one end of the wrench and a box-end on the other end. The box-end of these wrenches include a 12-point design for easier and quicker engagement of fasteners. Sonic wrenches are made from Chrome-Vanadium steel for a lifetime of durability, strength, and corrosion resistance.
Details

Combo Wrench Set, 19-PCS - SMALL

This 19-piece set covers sizes from 6mm to 24mm. In the Sonic Foam System tools are stored in a well-organized, chemical resistant, CNC machined foam inlay. They're better organized, quickly accessible for fast workability, ergonomically laid out, and feature a two-tone color system for convenient survey of missing tools.

Tool Sizes Engraved in Foam
Laser Cut and Chemical Resistant
Lifetime Warranty and 24-Hour Online Tool Exchange
Combination Wrench: 6, 7, 8, 9, 10, 11, 12, 13, 14, 15, 16, 17, 18, 19, 20, 21, 22, 23, 24mm