Metric Impact Socket Set 1/2", 39-PCS - MEDIUM SFS
SKU:
303902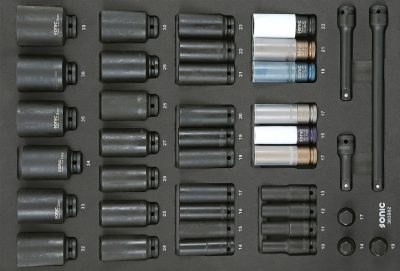 Product Overview:
Warranty:

Sonic offers a hassle-free lifetime warranty on all products. For more information or to submit a claim click here.
Sonic Tools impact sockets are made from CR440 steel, offering excellent impact-resistance while still combatting the elements with its stainless properties. This whole set is meant for a 1/2" impact wrench and 1/2" ratchet. These 1/2" deep-well impact-rated sockets cover everything from 10mm-38mm. There's even Sonic wheel sockets with a protective sheath in 15, 17, 19, 21, and 22mm. For those tough-to-loosen fasteners, this 39-piece set has Hex-key bits in 14, 17, and 19mm. The 3-inch, 5-inch, and 10-inch 1/2" drive extensions close this set out with the perfect touch.
Details

Sonic Tools impact sockets are made from CR440 steel, offering excellent impact-resistance while still combatting the elements with its stainless properties. This whole set is meant for a 1/2" impact wrench and 1/2" ratchet. These 1/2" deep-well impact-rated sockets cover everything from 10mm-38mm. There's even Sonic wheel sockets with a protective sheath in 15, 17, 19, 21, and 22mm. For those tough-to-loosen fasteners, this 39-piece set has Hex-key bits in 14, 17, and 19mm. The 3-inch, 5-inch, and 10-inch 1/2" drive extensions close this set out with the perfect touch.

Tool Sizes Engraved in Foam
Laser Cut and Chemical Resistant
Lifetime Warranty and 24-Hour Online Tool Exchange
Impact Deep Socket 1/2", 6PT: 10, 11, 12, 13, 14, 15, 16, 17, 18, 19, 20, 21, 22, 23, 24, 25, 26, 27, 28, 29, 30, 32, 33, 34, 35, 36, 38mm
Wheel Socket 1/2": 15, 17, 19, 21, 22mm
Impact Socket 1/2": 17mm for Mercedes-Benz
Impact Extension 1/2": 75, 125, 250mml
Impact Bit Socket Hex One-Piece: 1/2": 14, 17, 19mm, 43L