MCS SAE Combination Set 1/4", 32-PCS
SKU:
103202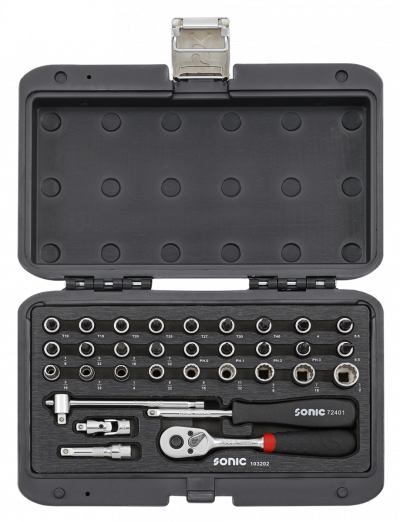 Product Overview:
Warranty:

Sonic offers a hassle-free lifetime warranty on all products. For more information or to submit a claim click here.
Take your tools with you with this Sonic mobile case set. Includes sockets from 3/16"-1/2" as well as the ratchet, extension, u-joint and more. Sonic ratchets and sockets are made from Chrome Vanadium steel for durability and resistance to rust and corrosion.
Details

MCS COMBINATION SET 1/4", 32 PCS SAE

This MCS combination 1/4" socket set is equipped with 32 pieces. The blow-molded case includes laser cut and chemical resistant foam, with every tool clearly and properly labeled. The latch system makes opening and closing the case incredibly easy. This unique mobile case set takes organization and efficiency to a new level

Blow Molded Hard Plastic Case
Laser Cut and Chemical Resistant
Lifetime Warranty and 24-Hour Online Tool Exchange
Flank Socket 1/4", 12PT: 3/16", 7/32", 1/4", 9/32", 5/16", 11/32", 3/8", 7/16", 1/2"
Bit Socket PH 1/4": PH.0, PH.1, PH.2, PH.3
Bit Socket Slotted 1/4": 4, 5.5, 6.5
Bit Socket Hex 1/4": 1/8", 5/32", 3/16", 7/32"
Bit Socket TX 1/4": T10, T15, T20, T25, T27, T30, T40
Ratchet 1/4": 60-Teeth
Sliding T-Handle 1/4"
Extension 1/4": 50mml
Universal Joint 1/4"
Spinner 1/4": 150mml