Hex Nut and Key Grip Set, 42-PCS - LARGE SFS
SKU:
604202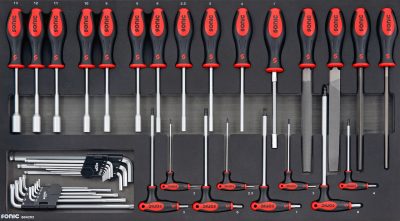 Product Overview:
Warranty:

Sonic offers a hassle-free lifetime warranty on all products. For more information or to submit a claim click here.
Our ball grip tools offer a combination of T-Handle and L-Handle tools. You get the long-reach of the T-Handle and the short L-Handle for more torque fasteners. Elliptical shaped ergonomic handles are made from chemical resistant plastic with a rubber overmold and highlighted with the embedded Sonic logo.
Details

Sonic nut-drivers include ergonomic tri-lobe plastic handles with a rubber overmold for comfort and grip. Chrome Vanadium shafts ensure durability for a lifetime of use. These same ergonomic handles are used on the files in this kit. Rounding out this kit are the 9-piece Torx and Hex-key sets.

Tool Sizes Engraved in Foam
Laser Cut and Chemical Resistant
Lifetime Warranty and 24-Hour Online Tool Exchange
Hex Nut Driver: 4, 5, 5.5, 6, 8, 9, 10, 11, 12, 13mm
Flexible Hex Nut Driver: 7mm
Hex Ball Point Grip Key: 2, 2.5, 3, 4, 5, 6, 7, 8mm
Flat File 8"
Half Round File 8"
Round File 8"
Triangular File 8"
TX Wrench Extra Long Key Set 9-PCS: T10, T15, T30, T25, T27, T30, T40, T45, T50
Hex Ball Extra Long Key Set 10-PCS: 1.27, 1.5, 2, 2.5, 3, 4, 5, 6, 8, 10mm