Hex Key Wrench Set Folding, 9-pcs. (SAE)
SKU:
600927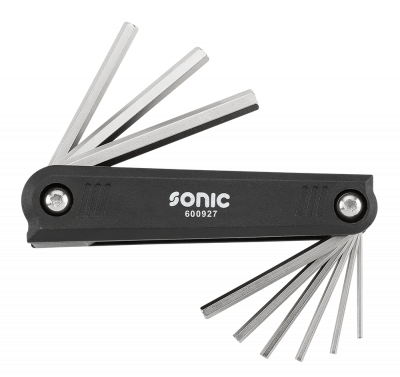 Product Overview:
Warranty:

Sonic offers a hassle-free lifetime warranty on all products. For more information or to submit a claim click here.
All Sonic keys are manufactured from a high grade of Chrome Vanadium steel with a perfect finish, strong tolerances, and dimensions. The high quality finishing provides a perfect fit and comfort. These Sonic keys are extremely solid, slim, and light, which makes work in tight spaces easier. Strict manufacturing procedures in each production phase ensure that quality standards are reached.
Details

All Sonic keys are manufactured from a high grade of Chrome Vanadium steel with a perfect finish, strong tolerances, and dimensions. The high quality finishing provides a perfect fit and comfort. These Sonic keys are extremely solid, slim, and light, which makes work in tight spaces easier. Strict manufacturing procedures in each production phase ensure that quality standards are reached.

Lifetime Warranty and 24-Hour Online Tool Exchange
1/16, 5/64, 3/32, 7/64, 1/8, 5/32, 3/16, 7/32, 1/4"
All Standard (SAE) Sizes