Bit spline 10mm, 30mmL M8
SKU:
9383008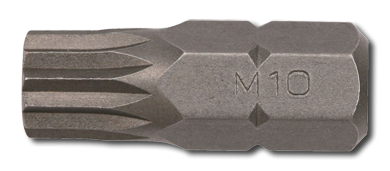 Product Overview:
Warranty:

Sonic offers a hassle-free lifetime warranty on all products. For more information or to submit a claim click here.
Our bits are constructed from chrome vanadium for added strength, and are corrosion and rust resistant. Available in a variety of sizes for all types of projects and needs. Designed to be dependable, durable, and efficient. Spline style bit allows for easy installation with precise end locks to prevent bits from slipping or falling off. Provides strong torque and is designed to endure heavy-duty wear and tear.
Details

Designed to be dependable, durable, and efficient. Spline style bit allows for easy installation with precise end locks to prevent bits from slipping or falling off. Provides strong torque and is designed to endure heavy-duty wear and tear.

Lifetime Warranty and 24-hour Online Tool Exchange

Easy Installation onto Drive Tools

Chrome Vanadium

Variety of Sizes

End Locks to Prevent Bits from Slipping or Falling Off