Aluminum Oil Filter Cup Wrench Set, 19-PCS - MEDIUM SFS
SKU:
601907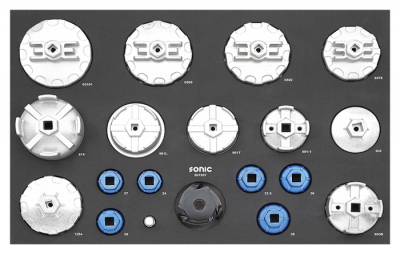 Product Overview:
Warranty:

Sonic offers a hassle-free lifetime warranty on all products. For more information or to submit a claim click here.
Services Audi, Volvo, Renault, Lexus, Peugeot, Ford, BMW, Volkswagen, Mercedes, Toyota, Nissan, Subaru, Mazda, Kia, Opel/Vauxhall, Mini and many others. Fluted oil filter cup wrenches for the removal and installation of oil filters used in modern engine applications. Suitable for use on popular petrol or diesel filters used in passenger, light commercial and heavy duty applications. Fluted cup design allows for gripping on corrugated end of the filter, reducing the possibility of filter damage during removal and installation. Professional 19 piece set supplied in blow mould storage case.
Details

Services Audi, Volvo, Renault, Lexus, Peugeot, Ford, BMW, Volkswagen, Mercedes, Toyota, Nissan, Subaru, Mazda, Kia, Opel/Vauxhall, Mini and many others. Suitable for use on popular petrol or diesel filters used in passenger, light commercial and heavy duty applications.

Foam Size = 22.44" x 14.57"
Tool Sizes Engraved in Foam
Laser Cut and Chemical Resistant
Fluted oil filter cup wrenches for the removal and installation of oil filters used in modern engine applications
Suitable for use on popular petrol or diesel filters used in passenger, light commercial and heavy duty applications
Fluted cup design allows for gripping on corrugated end of the filter, reducing the possibility of filter damage during removal and installation
Professional 19 piece set supplied in blow mould storage case
Features two of the popular Toyota sizes, for removing the plastic cartridge housing on most 4cyl and 6cyl applications
Manufactured from high grade aluminium to eliminate shearing, wearing and breakage
Oil Filter Claw Wrench: 55mm-90mm
Adaptor: 1/2"-3/8"
SW87mm,16 PT: Volvo
SW63-64mm,14 PT: Toyota
SW74mm,14 PT: Mercedes-Benz
SW79.5mm,14 PT: Lexus
SW70mm,14 PT: Toyota
SW66.5mm,14 PT: Ford, Mazda
SW84mm,14 PT: 2007 Dodger Sprinter, 2007 Mercedes-Benz E320, 2007 Jeep Cherokee V6 Common Rall Diesel Engines
SW79mm 15 PT: Toyota, Mitsubishi, Subaru, Mazda, Lsuzu
SW92mm 15 PT: Nissan, Subaru
SW94.5mm 15 PT: Nissan, Toyota
SW100.5mm 15 PT: Mazda, Mitsubishi
24mm: BMW 2004 and newer 5,7 Series and X5 with V8 motor (N62) Saturn 2008 Astra with Chrysler 2011 after with 3.6LV6 engine, 200, 300 and T/C Dodge Jeep
27mm: Benz A class
30mm: Audi A2, VW Polo, Lupo with 1.4L or 1.6L engine
32.5mm: Opel Astra G. Corsa B. Zafira Audi
36mm: Opel Omega, Vectra B, Zafira(98 on),BMW M43/60,Benz Vito CDI,C and E Class
38mm: Opel Vectra 2.0D