35mm Install Hammer soft/hard 13''
SKU:
4822102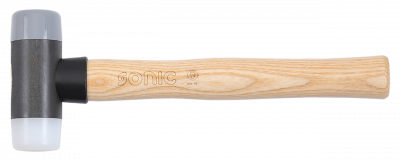 Product Overview:
Warranty:

Sonic offers a hassle-free lifetime warranty on all products. For more information or to submit a claim click here.
This Sonic hammer with nylon tips weighs in at almost 1-pound (400 grams) and it's made for delivering softer blows to softer materials. The nylon tips reduce marring and distortion, and the ash wood handle absorbs shock yet also remains tough and durable.
Details

35mm Install hammer soft/hard 13''

The install hammer features a two head design with one soft head and one hard head. Includes an ergonomic wooden handle designed to optimize comfort and torque, and has no slippage. Provides versatility for all projects and created to endure heavy-duty wear and tear.

Two Head Design with Soft Side and Hard Side

Ergonomic Ash Wood Handle

Lifetime Warranty with 24-hour Online Tool Exchange