3/8" Drive Cardan TX Socket
SKU:
71526XX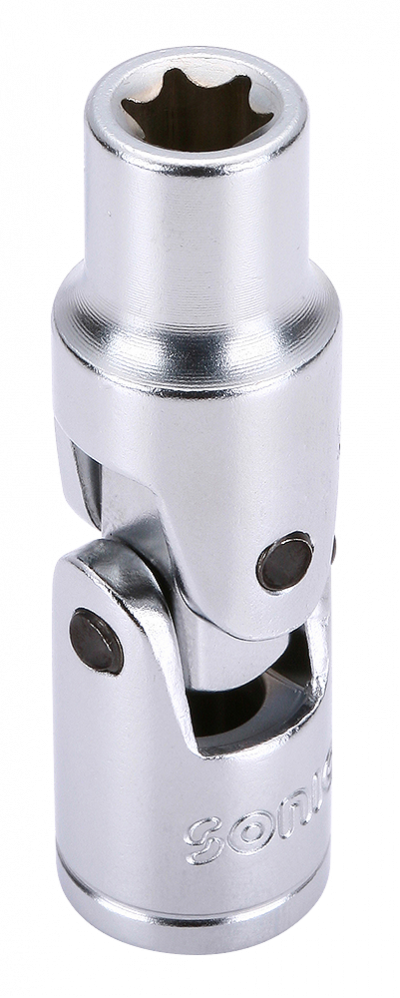 Product Overview:
Warranty:

Sonic offers a hassle-free lifetime warranty on all products. For more information or to submit a claim click here.
Our 3/8" sockets are constructed from Chrome Vanadium and are corrosion and rust resistant. Available in a variety of sizes for all types of projects and needs. Designed to be dependable, durable, and efficient. Units of measurement come in metric and standard. Cardan sockets pivot on two hinges allowing 180-degree rotation, giving the capability to access hard-to-reach fasteners. Allows for more flexibility to reach difficult angles and allows for greater torque applications. Created for hand use only.
Details

3/8" Drive Cardan Socket TX

Sonic Cardan sockets are commonly known as U-joint or universal sockets, or even swivel sockets. These sockets are made from tough Chrome Vanadium steel for strength and resistance against rust and corrosion. Cardan sockets pivot on two hinges allowing 180-degree rotation, giving the capability to access hard-to-reach fasteners. Allows for more flexibility to reach difficult angles and allows for greater torque applications They can be purchased in just about any size, including 6PT, 12PT, E-Torx, and more. You can even get these for impact wrenches as well. All are covered by the Sonic Tools lifetime warranty.

Pivots on Two Axis's Allowing 180-Degree Rotation

Chrome Vanadium

Lifetime Warranty with 24-Hour Online Tool Exchange