1/4" & 3/8" Socket Set, 265-PCS - XD
SKU:
226501
SALE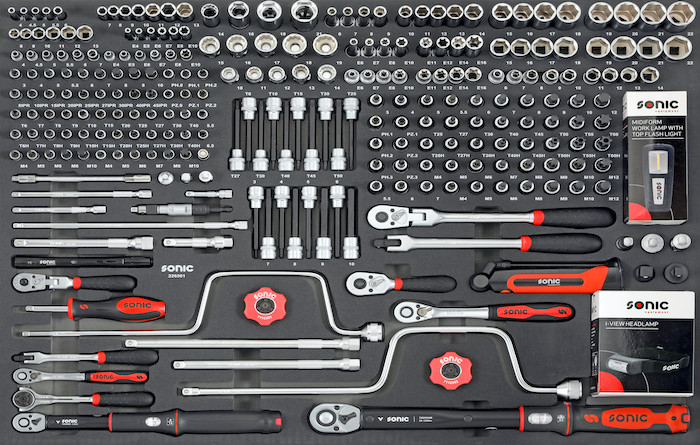 Product Overview:
Warranty:

Sonic offers a hassle-free lifetime warranty on all products. For more information or to submit a claim click here.
THIS PRODUCT IS ONLY AVAILABLE IN OUR 672-PCS TOOLSET. No more digging through your toolbox and wasting time searching for that 10mm socket. Get organized and stay organized with this 265-piece socket set. This toolset includes sockets, bit sockets, extensions, and ratchets in 1/4" and 3/8" drive. As well as a 3/8" torque wrench and other utility tools. Sonic ratchets and sockets are made from Chrome Vanadium steel while socket bits are made from hardened tool steel. The flank sockets have reliefs in the corners, allowing the socket to bite into the flats of the fastener, mitigating the chance of stripping.
Details

THIS PRODUCT IS ONLY AVAILABLE IN OUR 672-PCS TOOLSET & OUR 696-PCS TOOLSET. No more digging through your toolbox and wasting time searching for that 10mm socket. Get organized and stay organized with this 265-piece socket set. This toolset includes sockets, bit sockets, extensions, and ratchets in 1/4" and 3/8" drive. As well as a 3/8" torque wrench and other utility tools. Sonic ratchets and sockets are made from Chrome Vanadium steel while socket bits are made from hardened tool steel. The flank sockets have reliefs in the corners, allowing the socket to bite into the flats of the fastener, mitigating the chance of stripping.

AVAILABLE WITH THE 672-PCS TOOLSET

Tool Sizes Engraved in Foam
Laser Cut and Chemical Resistant
Lifetime Warranty and 24-Hour Online Tool Exchange
Deep Socket TX 3/8": E6, E7, E8, E10, E11, E12, E14, E16
Shallow Socket TX 3/8": E6, E7, E8, E10, E11, E12, E14, E16
Shallow Socket TX 1/4": E4, E5, E6, E7, E8, E10
Deep Socket TX 1/4": E4, E5, E6, E7, E8, E10
Flank Shallow Socket 3/8", 6PT: 6, 7, 8, 9, 10, 11, 12, 13, 14, 15, 16, 17, 18, 19, 20, 21, 22mm
Flank Deep Socket 3/8", 6PT: 8, 9, 10, 11, 12, 13, 14, 15, 16, 17, 18, 19, 20, 21, 22mm
Deep Socket 1/3": 4, 4.5, 5, 5.5, 6, 7, 8, 9, 10, 11, 12, 13mm
Shallow Socket 1/4": 4, 4.5, 5, 5.5, 6, 7, 8, 9, 10, 11, 12, 13mm
Bit Socket Hex 1/4": 3, 4, 5, 5.5, 6, 7, 8, 9, 10mm
Bit Socket PH 1/4": PH.0, PH.1, PH.2
Bit Socket TX Plus 1/4": 8IPR, 10IPR, 15IPR, 20IPR, 25IPR, 27IPR, 30IPR, 40IPR, 45IPR
Bit Socket PZ 1/4": PZ.0, PZ.1, PZ.2
Bit Socket TX 1/4": 6T, 7T, 8T, 9T, 10T, 15T, 20T, 25T, 27T, 30T, 40T
Bit Socket Slotted 1/4": 5.5mm, 6.5mm
Bit Socket Tamperproof TX 1/4": T6H, T7H, T8H, T9H, T10H, T15H, T20H, T25H, T27H, T30H, T40H
Bit Socket Spline 1/4": M4, M5, M6, M7, M8, M10
Bit Socket Ribe 1/4": M4, M5, M6, M7, M8, M10
Magnetic Socket Pick-Up 1/4"
Adaptors: 1/4" x 3/8", 3/8" x 1/4"
Universal Joint 1/4"
Extension 1/4": 50, 100, 150, 250mml
Cardan Socket 1/4": 10, 11, 12, 13, 14, 15, 16, 17, 18, 19mm
Universal Adaptor 1/4"
Flexible Extension 1/4"
Bit Socket Hex 3/8": 3, 4, 5, 5.5, 6, 7, 8, 9, 10, 12mm
Bit Socket Ribe 3/8": M4, M5, M6, M7, M8, M9, M10, M12
Bit Socket TX Tamperproof 3/8": T25H, T27H, T30H, T40H, T45H, T50H, T55H, T60H
Bit Socket Spline 3/8": M4, M5, M6, M8, M9, M10, M12
Bit Socket TX 3/8": T25, T27, T30, T40, T45, T50, T55, T60
Bit Socket PH 3/8": PH.1, PH.2, PH.3
Bit Socket PZ 3/8": PZ.1, PZ.2, PZ.3
Bit Socket TX 3/8": 90mml - T8, T10, T15, T20, T25, T27, T30, T40, T45, T50
Bit Socket Slotted 3/8": 5.5, 6, 7mm
Speed Handle: 1/4", 3/8"
3-1 Work Light
Head Lamp
Pen Light
Mag Work Light
Extension 3/8": 44, 75, 150, 200, 450, 600mm
Adaptor: 3/8"(F) x 1/2"(M)
Adaptor: 1/2"(F) x 3/8"(M)
Spark Plug Clip Socket 3/8": 14, 16, 18, 21mm
Universal Joint 3/8"
Disc Ratchet 3/8"
Disc Ratchet 1/4"
Spinner 1/4"
Breaker Bar 1/4"
Ratchet 3/8": 60 Teeth
Ratchet 1/4": 60 Teeth
Ratchet 3/8" Stubby: 45 Teeth
Rotor Ratchet 1/4"
Torque Wrench 3/8": 10-100nm
Torque Wrench 3/8": 5-25nm
Breaker Bar 3/8"
Flex Head Ratchet 3/8", 1/4": 72 Teeth