Metric Wrench Set, 69-PCS - LARGE SFS
SKU:
606901
SALE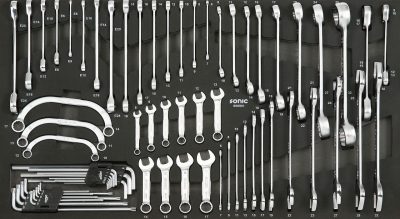 Product Overview:
$1,590.00 $1,272.00
MSRP:
Warranty:

Sonic offers a hassle-free lifetime warranty on all products. For more information or to submit a claim click here.
With this 69-piece Sonic wrench set you'll get 10 different style wrenches good for every job. All Sonic Tools wrenches are made from Chrome-Vanadium steel that offers a lifetime of durability and resistance to weather and chemicals.
Details

Included in this set you'll get two different 4-in-1 Ratchet Wrenches offer 2 sizes on each end covering 8mm to 19mm with just two wrenches. A reversing lever allows you to switch directions without removing the wrench. Another first are these ratcheting E-torx wrenches from E6 to E24. A set of Stubby Wrenches make getting in those tight areas much easier, and the 3 half-moon wrenches allow you to loosen fasteners even if they're around the corner. Also included are double open-end wrench set for 6mm to 32mm fasteners, and the flat double box-end wrenches for 6mm to 19mm. Flare-nut wrenches from 8mm to 32mm make removing transmission and brake lines a breeze. Finally, this 69-piece kit finishes up with a 10-piece Hex-key set and 9-piece Torx-key set.

Tool sizes screen printed in foam
CNC machined and chemical resistant
Lifetime Warranty and 24-Hour Online Tool Exchange

Contains:

FLARE NUT WRENCH: 8X10, 11X13, 12X14, 16X18, 17X19, 19X22, 24X27, 30X32
DOUBLE OPEN WRENCH: 6X7, 8X9, 10X11, 12X13, 14X15, 16X17, 18X19, 20X22, 21X23, 24X27, 25X28, 30X32
TWO 4-IN-1 RING RATCHET WRENCH: 8-10,12-13; 16-17, 18-19
FLAT DOUBLE RING WRENCH: 6x7, 8x9, 10x11, 12x13, 14x15, 16x17, 18x19
HALF-MOON WRENCH: 10x12, 11x13, 14x17
STUBBY COMBINATION WRENCH: 8, 9, 10, 11, 12, 13, 14, 15, 16, 17
TX RATCHETING WRENCH: E6xE8, E10xE12, E14xE18, E20xE24
STAR WRENCH: E6xE8, E10xE12, E14xE18, E20xE24
HEXAGON KEY WRENCH, EXTRA LONG SET: 10-PCS
TX WRENCH, EXTRA LONG KEY SET: 9-PCS