Metric Wrench Set, 47-PCS - MEDIUM SFS
SKU:
604702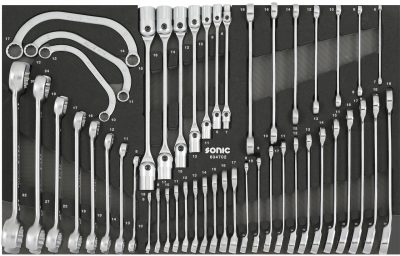 Product Overview:
Warranty:

Sonic offers a hassle-free lifetime warranty on all products. For more information or to submit a claim click here.
Do you need to reach fasteners around a hidden corner? Then this Sonic 47-piece wrench set may be just for you. Three half-moon wrenches deliver with a full 180-degrees from end-to-end. A set of stubby combination wrenches gets you access in really tight spots for fasteners from 8mm-17mm. All Sonic Tools wrenches are made from Chrome Vanadium steel that offers a lifetime of durability and resistance to weather and chemicals. Reversible ratcheting wrenches in sizes 8mm-19mm include a reversing lever that keeps your wrench on the fastener, even when changing directions. Finally, a set of double box-end wrenches and a set of flare nut wrenches complete this 47-piece set.
Details

In this 47-piece wrench set there are three half-moon wrenches deliver with a full 180-degrees from end-to-end. A set of stubby combination wrenches gets you access in really tight spots for fasteners from 8mm-17mm. All Sonic Tools wrenches are made from Chrome Vanadium steel that offers a lifetime of durability and resistance to weather and chemicals. Reversible ratcheting wrenches in sizes 8mm-19mm include a reversing lever that keeps your wrench on the fastener, even when changing directions. Finally, a set of double box-end wrenches and a set of flare nut wrenches complete this 47-piece set.

Tool Sizes Engraved in Foam
Laser Cut and Chemical Resistant
Lifetime Warranty and 24-Hour Online Tool Exchange
Foam Size: 29" x 17"
Flare Nut Wrench: 8X10, 11X13, 12X14, 16X18, 17X19, 19X22, 24X27, 30X32mm
Hinged Socket Wrench: 6X7, 8X9, 10X11, 12X13, 14X15, 16X17, 18X19mm
Reversible Ratcheting Wrench, 12PT: 8, 9, 10, 11, 12, 13, 14, 15, 16, 17, 18, 19mm
Flat Double Ring Wrench: 6X7, 8X9, 10X11, 12X13, 14X15, 16X17, 18X19mm
Half-Moon Wrench: 10X12, 11X13, 14X17mm
Stubby Combination Wrench: 8, 9, 10, 11, 12, 13, 14, 15, 16, 17mm