Utility Set, 44-PCS - MEDIUM SFS
SKU:
604402
SALE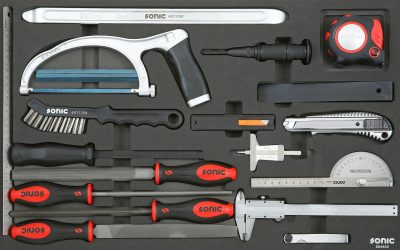 Product Overview:
Warranty:

Sonic offers a hassle-free lifetime warranty on all products. For more information or to submit a claim click here.
There's several tools in here that will save your day, or even your week. While files and a hacksaw may seem routine, having it within reach is the real luxury. A 9-inch vernier caliper and a tire-tread depth-gauge deliver real measurements for informed decisions. Adjust valves are no problem with the 26-piece feeler gauge and a stainless-steel protractor will help you determine the right angle. Sonic rounds out this 44-piece set with a 5-meter measuring tape.
Details

There's several tools in here that will save your day, or even your week. While files and a hacksaw may seem routine, having it within reach is the real luxury. A 9-inch vernier caliper and a tire-tread depth-gauge deliver real measurements for informed decisions. Adjust valves are no problem with the 26-piece feeler gauge and a stainless-steel protractor will help you determine the right angle. Sonic rounds out this 44-piece set with a 5-meter measuring tape. Tool sizes screen printed in foam

CNC machined and chemical resistant
Lifetime Warranty and 24-Hour Online Tool Exchange

CONTENTS:

MINI HACKSAW 11''
SAW BLADE 3 PCS.
FEELER GAUGE 26 PCS.
STAINLESS STEEL VERNIER CALIPER 9''
STAINLESS STEEL STRAIGHT RULE 30CM 12''
STAINLESS STEEL PROTRACTOR
MEASURING TAPE 197" (5M)
STEEL WIRE BRUSH 9''
WEDGE UNIVERSAL 7.5X1.2 IN. (190X30MM)
PRY BAR 380MM
TRIANGULAR FILE FOR BRAKES 8``
TIRE PROFILE GAUGE 2" (50MM)
FLAT FILE 8``
HALF ROUND FILE 8``
ROUND FILE 8``
TRIANGULAR FILE 8``
UTILITY KNIFE (INCL. 10 BLADES)