Metric Spark Plug Socket Set 3/8", 14-PCS - SMALL SFS
SKU:
201401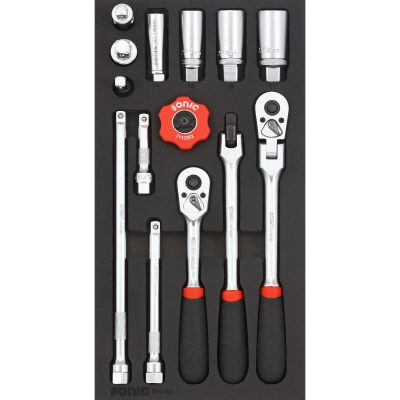 Product Overview:
Warranty:

Sonic offers a hassle-free lifetime warranty on all products. For more information or to submit a claim click here.
This 14-piece 3/8" Sonic Tools set is the perfect spark-plug socket kit. In addition to the 3/8" flex-head and Quick Release ratchet, this set also includes a 10" breaker-bar. Sonic Tools sockets and ratchets are made from Chrome Vanadium steel while socket bits include a hardened tip. This makes tools stronger, more durable, and resist corrosion.
Details

Combo Set 3/8", 14-PCS - SMALL

This 14-piece 3/8" Sonic Tools set is the perfect spark-plug socket kit. In addition to the 3/8" flex-head and Quick Release ratchet, this set also includes a 10" breaker-bar. With 14, 16, 18, and 21mm spark-plug sockets, as well as three extensions, this covers the majority of your plug needs. Three adapters and a disc ratchet rounds out this kit.

Tool Sizes Engraved in Foam
Laser Cut and Chemical Resistant
Lifetime Warranty and 24-Hour Online Tool Exchange
Ratchet Handle 3/8": 60 Teeth
Flexible Ratchet 3/8": 45 Teeth
Disc Ratchet 3/8": 72 Teeth
Swivel Grip Handle 3/8": 250mml
Extension 3/8": 44, 75, 150, 250mml, 2"(L), 3"(L), 6"(L), 10"(L)
Universal Joint 3/8"
Adaptor for Extension: 1/2"(F) x 3/8"(M)
Spark Plug Clip Socket 3/8", 12PT: 14mm
Spark Plug Clip Socket 3/8": 16, 18, 21mm