Screwdriver Set, 8-PCS - SMALL SFS
SKU:
600823
SALE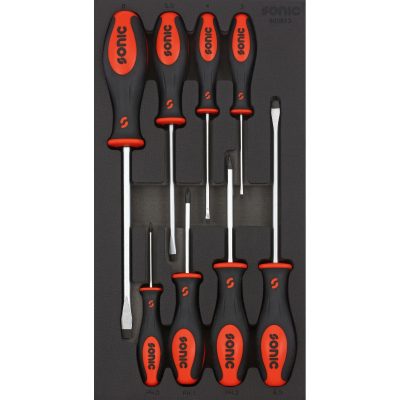 Product Overview:
Warranty:

Sonic offers a hassle-free lifetime warranty on all products. For more information or to submit a claim click here.
You'll love this simple Sonic 8-piece screwdriver set. Sonic Screwdrivers include ergonomic tri-lobe plastic handles with a rubber overmold for comfort and grip. Chrome Vanadium shafts ensure durability for years of use, and a hardened tip offers maximum gripping power. This 8-piece set includes 5 slotted (3, 4, 5.5, 6.5, & 8mm) and 3 Phillips screwdrivers (Ph 0, 1, & 2).
Details

Screwdriver Set, 8-PCS - SMALL

In the Sonic Foam System tools are stored in a well-organized, chemical resistant, CNC machined foam inlay. They're better organized, quickly accessible for fast workability, ergonomically laid out, and feature a two-tone color system for convenient survey of missing tools.

Sonic screwdrivers feature a bi-material handle (polypropylene and thermoplastic vulcanizate) that are ergonomically designed for comfort as well as maximum power. Sonic screwdrivers are also chemical resistant and are available in 3 different styles- standard, stubby, and extra-long.

Features

Tool sizes screen printed on foam

Each foam is clearly labeled for each tool. This allows any technician to open a toolbox drawer and find what they need in seconds. No more wasted time looking for the tools you need.

CNC Machined and chemical resistant

Every Sonic foam is CNC machined for accurate storage meaning that your tools are stored safely. The dual density foam is chemical resistant and will stand up to even the toughest work environments.

Lifetime Warranty and 24-Hour Online Tool Exchange

Sonic offers a no questions asked lifetime warranty on its tools. Simply fill out the 24-Hour Tool Exchange form and your warranty will be processed within 24-hours. See the Warranty tab for more details.

Contents

SCREWDRIVER: PH.0 PH.1 PH.2
SLOTTED SCREWDRIVER: 3MM 4MM 5.5MM 6.5MM 8MM