Metric Impact Deep Socket Set 1/2", 16-PCS - SMALL SFS
SKU:
301603
SALE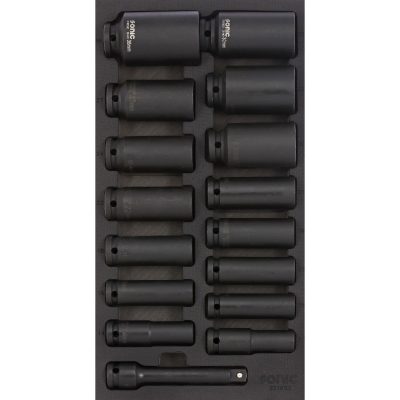 Product Overview:
Warranty:

Sonic offers a hassle-free lifetime warranty on all products. For more information or to submit a claim click here.
Impact wrenches need impact sockets and this 16-piece Sonic Impact Socket set is the perfect match for your pneumatic or cordless impact wrench. Sonic Tools impact sockets are made from strong CR-440 hardened steel to ensure strength and a lifetime of durability. Sonic's impact sockets will handle the blows of an impact wrench without shattering like a typical chrome socket. The 16-piece kit includes 6-point sockets from 13mm to 32 mm, as well as 12-point sockets in 30mm and 36mm sizes. You also get a 5" impact extension to complete the kit.
Details

Impact wrenches need impact sockets and this 16-piece Sonic Impact Socket set is the perfect match for your pneumatic or cordless impact wrench. Sonic Tools impact sockets are made from strong CR-440 hardened steel to ensure strength and a lifetime of durability. Sonic's impact sockets will handle the blows of an impact wrench without shattering like a typical chrome socket. The 16-piece kit includes 6-point sockets from 13mm to 32 mm, as well as 12-point sockets in 30mm and 36mm sizes. You also get a 5" impact extension to complete the kit.

Tool sizes engraved in foam
Laser cut and chemical resistant
Lifetime Warranty and 24-Hour Online Tool Exchange

Contains:

IMPACT SOCKET 1/2" 6 PT. DEEP 13, 14, 15, 16, 17, 18, 19, 21, 22, 24, 27, 30, 32
IMPACT SOCKET 1/2", 12 PT. DEEP 30, 36
IMPACT EXTENSION 1/2" 125MM, 5" (L)