Hex T-Grip and Utility Set, 27-PCS - LARGE SFS
SKU:
602803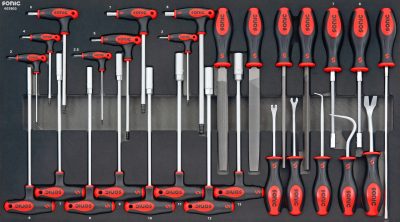 Product Overview:
Warranty:

Sonic offers a hassle-free lifetime warranty on all products. For more information or to submit a claim click here.
Shop our large Sonic Foam Systems, with integrated tool control, lifetime warranty, and professional-grade Hex keys, nut drivers, and more.
Details

Shop our Large Sonic Foam Systems, with integrated tool control, lifetime warranty, and professional-grade Hex keys, nut drivers, and more.

Tool Sizes Engraved in Foam
Laser Cut and Chemical Resistant
Lifetime Warranty and 24-Hour Online Tool Exchange
Hex Nut Driver T-Handle: 6, 7, 8, 9, 10, 11, 12, 13mm
Flexible Hex Nut Driver: 7, 8mm
Hex Ball Point Grip Key: 2, 2.5, 3, 4, 5, 6, 7, 8mm
Flat File 8"
Half Round File 8"
Round File 8"
Triangular File 8"
Door Upholstery Panel Remover: 100mml, 4(L)
Door Upholstery Panel Remover: 110mml, 5.2(L)
Cotter Pin Puller
Radiator Hose Remover
Trim Pad Tool: 1/4" x 115mml, 4.5(L)
Flexible Magnet Pick-Up: 500g