Metric Socket Set 1/2", 82-PCS - LARGE SFS
SKU:
308201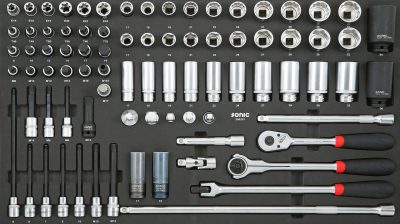 Product Overview:
Warranty:

Sonic offers a hassle-free lifetime warranty on all products. For more information or to submit a claim click here.
Big fasteners need big tools, so step up to this 82-piece 1/2" drive set. From the quick release ratchet to the swivel-head ratchet and breaker-bar, this set has the leverage you need. Sonic ratchets and sockets are made from Chrome Vanadium steel providing a lifetime of durability and excellent resistance to the weather and chemicals.
Details

Included in this set are 6-point shallow flank and 12-point sockets from 17mm-22mm. The flank sockets have reliefs in the corners, allowing the socket to bite into the flats of the fastener, mitigating the chance of stripping. You also get deep-well sockets from 17mm-32mm. Impact rated wheel sockets in sizes from 17mm-19mm provide a protective synthetic sheath to protect expensive wheels. An assortment of 1/2" drive of metric spline, Hex, Torx and E-Torx bits complete the set.

Tool Sizes Engraved in Foam
Laser Cut and Chemical Resistant
Lifetime Warranty and 24-Hour Online Tool Exchange
Flank Socket 1/2", 6PT: 17, 18, 19, 20, 21, 22, 24, 27, 29, 30, 32mm
Socket TX 1/2": E14, E16, E18, E20, E22, E24
Flank Socket 1/2", 12PT: 17, 18, 19, 20, 21, 22, 24, 27, 29, 30, 32mm
Flank Deep Socket 1/2", 12PT: 17, 18, 19, 20, 21, 22, 24, 29, 30, 32mm
Wheel Socket 1/2": 17, 19mm
Deep Impact Socket 1/2", 12PT: 85mml - 34, 36mm
Flexible Ratchet 1/2": 72 Teeth
Ratchet 1/2": 60 Teeth
Universal Joint 1/2"
Adaptor for Extension: 3/8"(F) x 1/2"(M)
Adaptor: 3/8"(F) x 1/2"(M)
Adaptor: 1/2"(F) x 1/2"(M)
Adaptor: 3/4"(F) x 1/2"(M)
Wobble Extension 1/2": 50, 125, 250, 500mm
Swivel Handle 1/2": 380mml
Bit Socket Ball Hex 1/2": 140mml bit - 6, 7, 8, 10mm
Bit Socket Hex 1/2": 8, 10, 12, 14, 17, 19mm
Bit Socket Hex 1/2": 248mml, 6
Bit Socket TX 1/2": T40, T45, T50, T55, T60, T70
Bit Socket Spline 1/2": M17
Bit Socket Spline 1/2": M9, M10, M12, M14, M16
Bit Socket Spline 1/2": M16T
Bit Socket Spline 1/2": 100mml - M8, M9, M14
Bit Socket Spline 1/2": 140mml - M10, M12
Impact Bit Socket Spline 1/2": M18